SWOOPOS the official mobile ordering and table delivery partner at ALMR Christmas Lunch
By: Lee
SWOOPOS is pleased to announce that it is the official mobile ordering partner at the 22nd ALMR (Association of Licensed Multiple Retailers) Christmas Lunch on Thursday 15th December 2016. The prestigious event for the licensed hospitality sector attracts over 1,200 decision makers from across the industry and will be held at Old Billingsgate, London.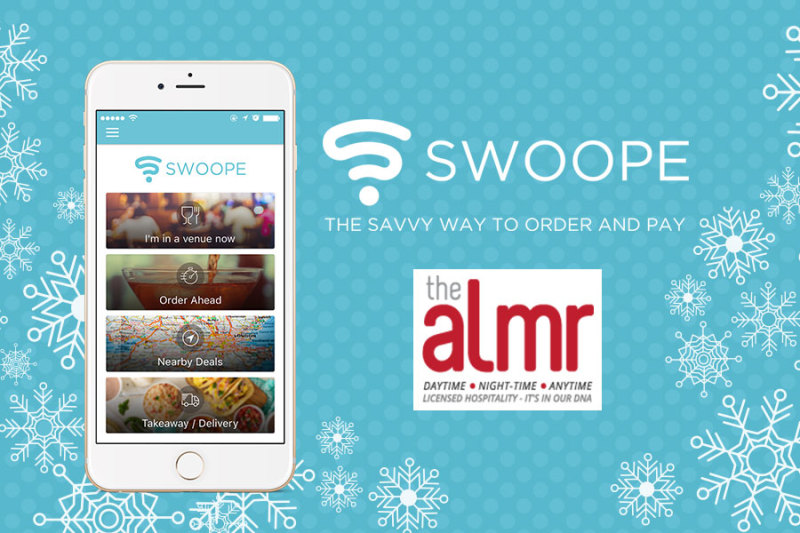 Thanks to SWOOPOS (and the customer-facing app SWOOPE) attendees at the ALMR Christmas Lunch will be able to order all of their drinks from their mobile phones, straight to their table. The SWOOPE app talks directly to the SWOOPOS tills meaning customers can browse the menu based on the live, up-to-date inventory and then they can place an order which gets straight to the till for staff to acknowledge and action in moments.
"We are thrilled to be working alongside the ALMR, to bring our innovative software solution to their network of entrepreneurs in the retail and hospitality sector." states Lee Nazari, SWOOPOS founder and CEO. "Our innovative mobile ordering software will mean that all event attendees will be able to order straight to their table in moments – to help make the ALMR Christmas Lunch smoother and even more enjoyable."
Together the SWOOPE app and the SWOOPOS till software create a true omni-channel solution which enables business owners to offer seamless mobile ordering and payment, as well as collecting insightful data analytics and enabling powerful mobile marketing.
Via the SWOOPOS till software and SWOOPE smartphone app, venues can offer their customers the option to pre-order for collection, order delivery (if the venue offers this service) or even skip the queues and start a tab straight from their table. SWOOPOS also gathers real time information on every aspect of the business; from staff efficiency to customer demographics, sales trends and time spent in store. Owners therefore have the whole picture and can make better, more informed decisions about their business.
SWOOPOS merchants can communicate directly to potential customers by uploading exclusive deals or vouchers to the app. Each venue can target these deals based on whether the customer is new or returning, their gender and their age. The SWOOPE app also uses the latest beacon technology to send highly targeted, location-specific messaging to people within 50ft of the venue.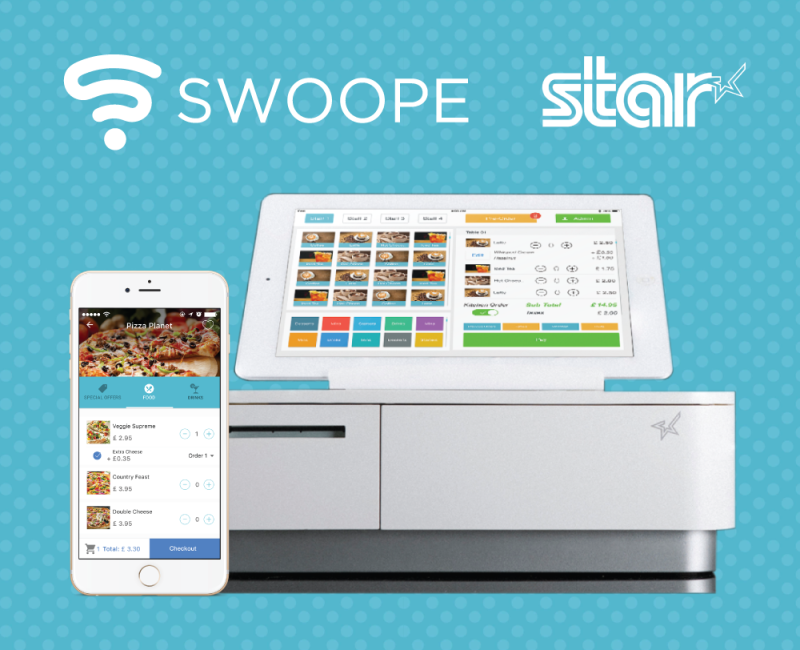 The service allows users to search via location to find nearby deals or view deals by clicking on a venue's profile. SWOOPE app users can redeem local deals through the app or in-store and they also regularly receive push notifications and email updates about the best and most exciting offers available.
The SWOOPOS software will be operating alongside Star Micronics – the perfect hardware partner to deliver an effective and reliable mPOS solution. Star TSP654IIBI Bluetooth printers will be connected to the SWOOPOS tablets; to offer cloud-based printing capabilities at the event.
"We are delighted to be partnering with SWOOPOS at the prestigious ALMR event to provide an efficient table ordering system", states Annette Tarlton, Marketing Director, Star Micronics EMEA. "With such innovative software and hardware, SWOOPOS and Star can offer an mPOS solution that is hard to beat."
--------------
For more information about SWOOPOS please contact us on sales@swoopos.com